Black Tern
With only 1.300 pairs left the Black Tern (Chlidonias niger ) is a rare bird in the Netherlands.
And a amazing bird too: every spring this only 65 gram (2.29 oz) bird flies from Africa (winter spot) thousends of miles to western europe to start a new family.

Because lots of nesting spots are too dry caused by human interference, now they get a litle help.
End of april small floating boards are placed in the water, so they can start nesting.

I have been there from the moment they came back, with some nice shots of fighting, mating, breeding and finally feeding the chicks.
I shot over 9.000 images, saw very nice behaviour, saw lots of sunrises and spent hours lying between mosquitoes, but it was worth every shot.
Zwarte Stern
Met nog maar 1.300 paartjes is de Zwarte Stern (Chlidonias niger ) een zeldzame verschijning in Nederland.
En heel bijzonder ook, want dit vogeltje weegt maar 65 gram en overwintert helemaal in Afrika.
En komt vervolgens in het voorjaar terug om o.a. in Nederland te broeden.
Door gebrek aan nestgelegenheid, vanwege o.a. het verdwijnen van Krabbescheer, worden nu vlotjes uitgelegd in het water waarop ze kunnen broeden.
Vanaf het moment dat ze terug kwamen in Nederland tot het uitvliegen, was ik er bij.
Ik heb het vechten, de paarvorming, het paren, broeden en uitvliegen van de jongen kunnen vastleggen.
Dat leverde meer dan 9.000 foto's op, liggend tussen de muggen op mijn buik in het riet. Maar het was het meer dan waard.


Scaring off an intruder at first light

End of april small floating boards are placed in the water, so the birds can start nesting.

But first couples are formed and intruders are scared off.
Een belager wordt weg gejaagd bij zonsopkomst
Eind april worden vlotjes in het water gelegd zodat de vogels kunnen nestelen.

Maar eerst worden paartjes gevormd en belagers weg gejaagd.


Mating at first light
After mating there will be 2-3 eggs, only one time per year.
They are incubated in 21-22 days.


Paring in eerste licht
Na de paring worden 2-3 eieren gelegd, slechts 1 keer per jaar.
De broedduur is 21-22 dagen.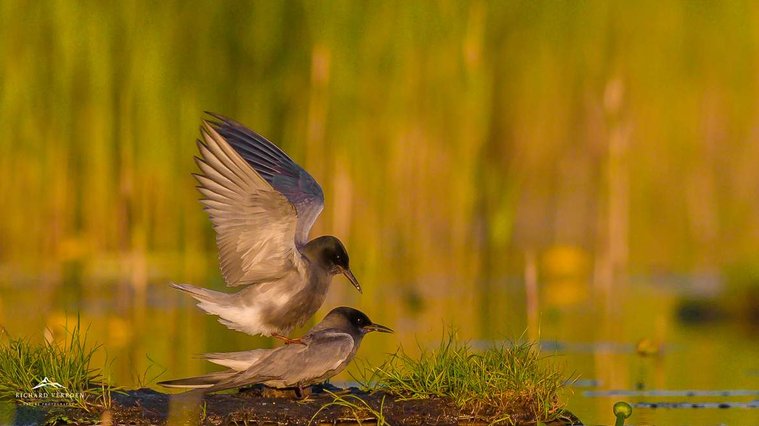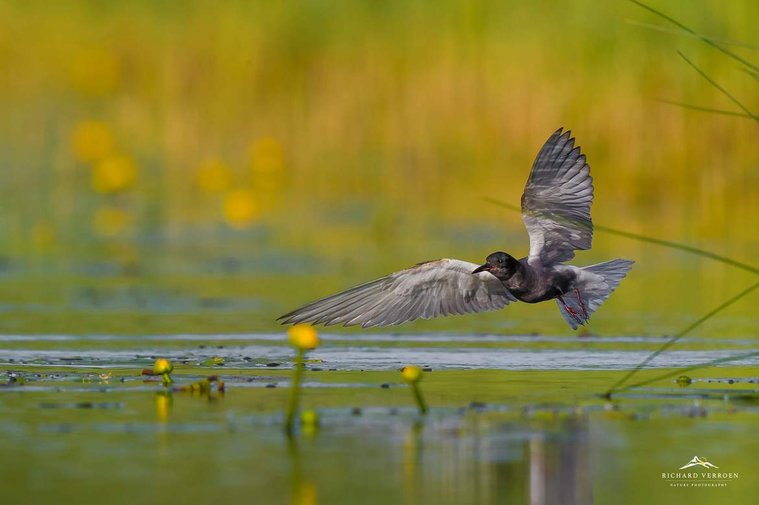 Hunting for food
Flying over the water surface to catch a small fish or an insect larva.
Or the Tern picks up an insect that is on a water lily.
Jagen op voedsel
Vliegend vlak over het oppervlak vangen ze kleine visjes of insectenlarves uit het water.
Of pakken ze een insect van een waterlelie op.
We are hungry
After 21-22 days the eggs hatch.
The size of the chicks is different, because the mother does not lay the eggs at once.
So there is a small age difference.


Wij hebben honger
Na 21-22 dagen komen de eieren uit.
De jongen verschillen in grootte, omdat de eieren niet tegelijk worden gelegd.
Daarom is er een klein leeftijds verschil.
They are real acrobats
When catching a dragonfly during flight and at feeding the chicks.
Mostly they just fly over and than the chicks have only 1 second to catch the prey.
And when they grow older, the parents become layed back and they just throw it on the nest when they fly over.
Het zijn echt acrobaten
Als ze een libel vangen in de vlucht en als ze hun jongen voeren.
Vaak vliegen ze over het nest en heeft het jong 1 seconde om de prooi te pakken. Als de jongen ouder worden gooien de ouders de prooi gewoon uit de lucht op het nest.




Picking up a fish
Just over the water surface a small fish is picked up out of the water


Een visje oppikken
Scherend over het water oppervlak wordt een visje opgepikt.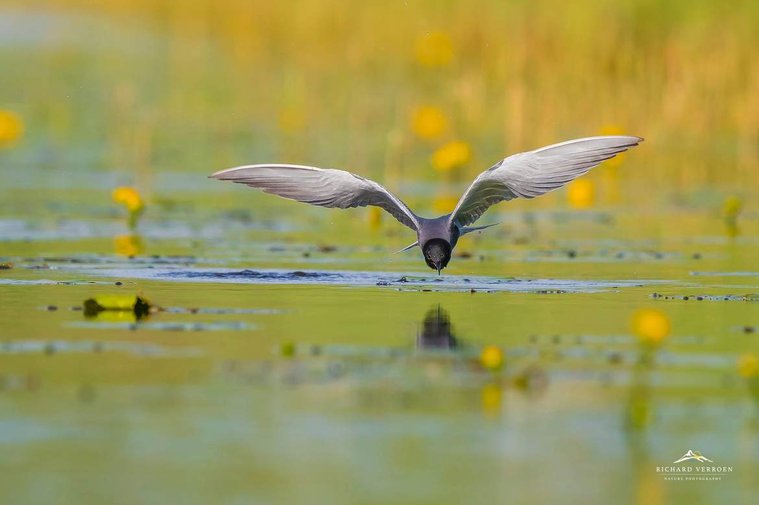 Headshake
No, its neck is not broken. This bird shakes off some water drops, after a dive.
Even schudden
Nee, zijn nek is niet gebroken.
Deze vogel schudt het water van zich af na een duik.




Preying
To catch a fish or an insect, they prey above water.
Bidden
Om een visje of een insect te vangen, bidden ze vaak boven water.